Perspectives on Nanotechnology: Business, Government and Public Health
Wednesday May 30, 2007
View Webcast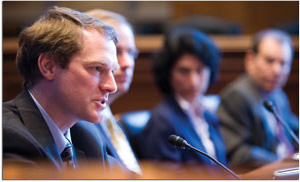 Scientists have hailed nanotechnology as the next great scientific revolution, poised to create revolutionary changes in the daily lives of people worldwide. At an event hosted by the Project at the Dirksen Senate Office building, a panel of experts offered different perspectives on the budding potential of nanotechnology, but also cautioned that exploiting the unpredictable properties materials exhibit at the nanoscale may have as much potential to harm as to help.
The panel agreed that major effort must be made to ensure that nanotechnology development incorporates environmental health and safety (EHS) risk assessments. To date only a few EHS studies have been conducted, despite over 500 consumer products labeled as containing nanotechnology currently available to consumers listed in PEN's Consumer Product Inventory.
Project science advisor Andrew Maynard, NanoBusiness Alliance executive director Sean Murdock, National Resource Defense Council scientist Jennifer Sass and PEN senior advisor and Resources for the Future senior fellow J. Clarence (Terry) Davies shared their insights on the current state and future of nanotechnology.
Framing the discussion, Andrew Maynard offered the example of zinc oxide nanoparticles in sunscreen: Nanoscale zinc oxide particles offer the same UV-A radiation blocking properties as the traditionally macro sized sunscreen ingredient, but offer the additional benefit of clear application, saving sun-seekers from the lifeguard "white nose" look. He cautioned, however, that little is known about workplace exposure to nanomaterials, whether nanoparticles are capable of penetrating consumers' skin, whether they can cause harm inside the human body and what the fate and impact of these novel materials might be once washed off the skin or disposed of.
Jennifer Sass observed that the most currently available nano-enabled consumer products are subject to little or no oversight and offered "frivolous" benefits that, for her, did not outweigh the unknown and potentially harmful risks. Sass cited medical applications of nanotechnology as an area where she felt the risk-reward ratio was more appropriate. Nanomedical applications promise enormous benefits for treating intractable diseases such as cancer, but also are regulated and required to undergo extensive risk testing before reaching market.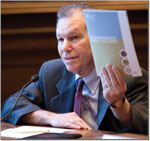 In this light, J. Clarence Davies added that the he believed the National Nanotechnology Initiative should significantly increase funding for EHS research. Davies further noted that this viewpoint along with a comprehensive analysis of the issue was available in a recently released report he authored for PEN: EPA and Nanotechnology: Oversight for the 21st Century.
Listing potential "green" applications of nanotechnology, such as low-cost solar power and cleaner, more fuel-efficient cars, Sean Murdock said, "Nanotech is making it good business to look out for the environment." Sass hoped that countries like the United States would make green nanotech innovations available to developing nations.
All panelists agreed that the nanotechnology industry needs better oversight to control and prevent EHS hazards. Murdock told the audience that many nanotech companies already work with NIOSH to control workplace EHS risks and applauded concerted efforts between industry and environmental groups to set up voluntary self-regulation. Several panelists called for government regulation of the industry, with Davies suggesting significant reforms to the EPA and Toxic Substances Control Act to "…give them the tools they need