EPA and Nanotechnology: Oversight for the 21st Century
Wednesday May 23, 2007 • 10:00 – 11:00 AM • reception to follow
View Webcast

Woodrow Wilson Center • 6th Floor Auditorium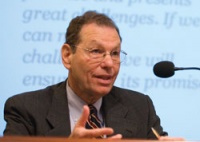 As the Environmental Protection Agency (EPA) recently stated, nanotechnology has evolved from a futuristic idea to watch to a current issue to address. And for this new technology's enormous potential to improve everyone's life to be realized, nanotechnology must be subject to an adequate oversight system—a system designed to identify and minimize any adverse effects of nano materials and products on health or the environment.
A new report by J. Clarence (Terry) Davies, EPA and Nanotechnology: Oversight for the 21st Century, examines the EPA role in nanotechnology oversight. The report considers various oversight tools for dealing with nanotechnology and proposes a number of action steps for government, industry, and other stakeholders.
According to Davies, the nanotechnology revolution provides an opportunity to institute new kinds of regulation, to create an oversight system for nanotechnology that will be more effective but less intrusive than existing forms of regulation and that will require fewer resources from both the public and private sectors. Nanotechnology can also be a catalyst for the revitalization of EPA.
For more details, please view the archived webcast linked above. Dr. Davies also wrote the report, Managing the Effects of Nanotechnology, released in January 2006 by the Project on Emerging Nanotechnologies.